Make Your Next Event Magical
Discover how to supercharge your organizations next party with laughter, fun, and entertainment your guests will love! Melvin the Magnificent and Hocus Pocus the magic bunny have an action packed, interactive magic show sure to amaze! Melvin has been entertaining families for over twenty years. This show is packed with magical surprises and great family comedy. If you want to hear the best sound in the world, the laughter of children, then don't miss Melvin the Magnificent and Hocus Pocus. Melvin would love the opportunity to entertain for your organization.
Amazing Interactive Show
Shows can be Themed
Professional Sound System with Music Included
Can Help to Introduce any Special Guest
Fully Insured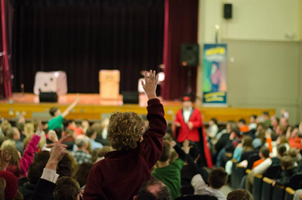 "Your performance was truly magnificent at our Easter Egg Hunt last week. The children were captivated by your magic tricks. By including some of the children in your performance, they now have a special memory that will last for a lifetime. After the show, many of the parents commented about what a great time they had watching you perform. We are glad that you were able to join us and help make our event a resounding success!"
-Michelle & John Frainier, St. Michael's Church
As one of the busiest family show professionals in the Capital Region, my calendar can fill up weeks in advance. So I urge you to e-mail me or call 518-831-9222.